Test and Treat COVID-19 Kits, delivered to your door
Test, treat, and protect your family— without paying a dime.
*Average wait time is 5 minutes.
Test and Treat Covid Kits provide:
Reliable results – test and treat your household, maintain your peace of mind 
Easy-to-book telehealth appointments
Medication and doctors' notes from trusted providers
Start saving now,
in under 3 minutes
Rume Health works with an extensive number of insurance carriers. Most insurance plans will cover the cost of your Test and Treat Covid Kit because of COVID-19 health regulations. We are not currently accepting Medicare and Medi-CAL plans.
If your insurance plan doesn't cover your Covid testing kit, 
Rume Health Group will cover the cost for you. 
Because everyone deserves access to quality care.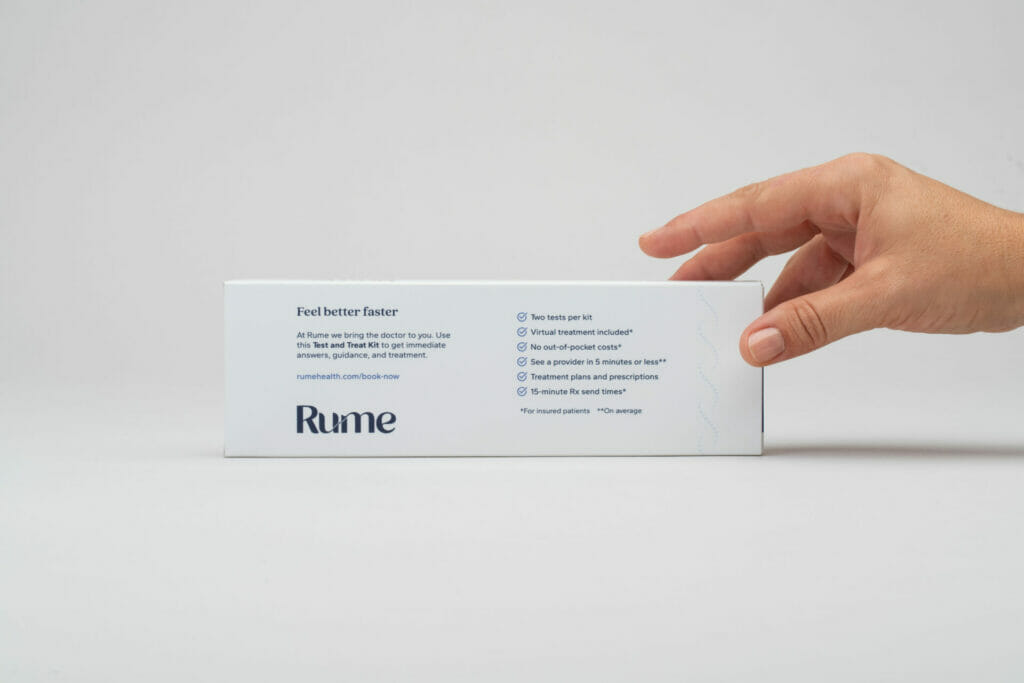 "Check-in process was simple with a video call to a doctor who asked some questions. We were in and out in less than 5 minutes. Awesome."
"Kristina was absolutely fantastic and extremely helpful. Straight to the point and did her job with ease. 10/10 recommend."
"Easy COVID-19 testing. The provider subscribed Paxlovid in the same visit. Staff were quick and very kind."
"Staff is very accommodating and friendly, and was wearing proper PPE."
Yes, our Covid testing kits are indeed free of charge. Rume Health's free subscription program includes the cost of the test kits, shipping, and virtual health center consultations. 

Thanks to the passage of Senate Bills 510 and 1473, which include Medi-Cal managed plans and Covered California plans, health insurance companies are mandated to cover certain costs because of the COVID-19 pandemic.

This program is billed directly to your insurance provider, which means your out-of-pocket expense is zero.
No. Rume handles all the paperwork for you!
The Rume Health Group works with a large number of insurance carriers–and we work with them daily. We're confident a majority of them will cover this plan due to remaining COVID-19 regulations. However, if it turns out that your carrier does not cover this program, Rume Health Group will cover it for you! No cost, no catch.
Your monthly delivery will include 8 FDA authorized tests. Each test includes a Quick Care QR Code™.
You can book an on-demand appointment with a Rume Health provider any time you conduct a test and get new results. Because 8 tests are included with every delivery, you could technically meet with a provider 8 times a month. But we hope you won't need to!
This program is scheduled to run through Fall 2023, but a final date has not yet been scheduled. You will be notified via email when an end date has been selected.
Once you're officially enrolled in the program you'll receive an email containing details about your subscription, and directions on how to cancel. You can cancel at any time.
Conversely, Rume Health has the right to cancel your membership at anytime. If this happens you will be notified via email with an explanation of cancellation.